Construction
Smith's objective and design philosophy behind AEROCORE™ construction is to increase airflow, improve temperature regulation resulting in fog-free vision and improve impact resistance. The objective was achieved through the combination of materials such as EPS and Koroyd®, a revolutionary new material that absorbs more energy upon impact when compared to international standards, while increasing airflow. AEROCORE™ construction through the use of Koroyd® and EPS allows for more vents to be placed throughout the helmet without sacrificing protection and comfort.
Koroyd
Engineered Absorption
The combination of Koroyd's® precise and unique thermal welding process leads to a structure with both extremely efficient and consistent energy absorption properties. Upon impact, the cores crush in a completely controlled manner, decelerating the energy from the impact and reducing the final trauma levels.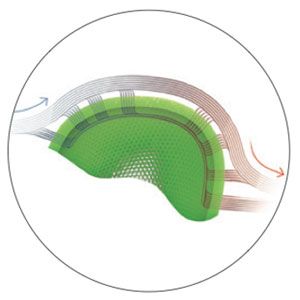 Full Breathability
Koroyd® is an energy absorber which is fully breathable and doesn't compromise impact performance. Koroyd's® open cell construction allows cool air in, while expelling hot air from the rider's head. The completely open cell construction integrates with internal channels to create the full Aerocore construction to provide ventilated protection.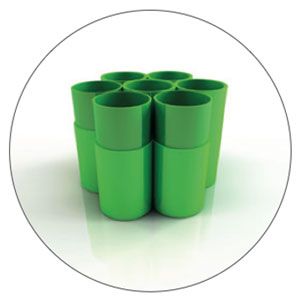 Engineered Protection
Thousands of co-polymer extruded tubes, thermally welded to create an unparalleled consistent and fully engineered core. Each Koroyd® section is engineered to precise durometer, size, and thickness specifications to provide the greatest impact resistance and aesthetically consistent presentation.
Available with MIPS

Multi-directional Impact Protection System
MIPS is used to reduce the rotational forces to the brain in the case of an oblique impact. Smith helmets are created to absorb direct impacts very efficiently and when combined with MIPS, Smith helmets absorb oblique forces better by allowing a small rotation of the outer shell relative to the liner.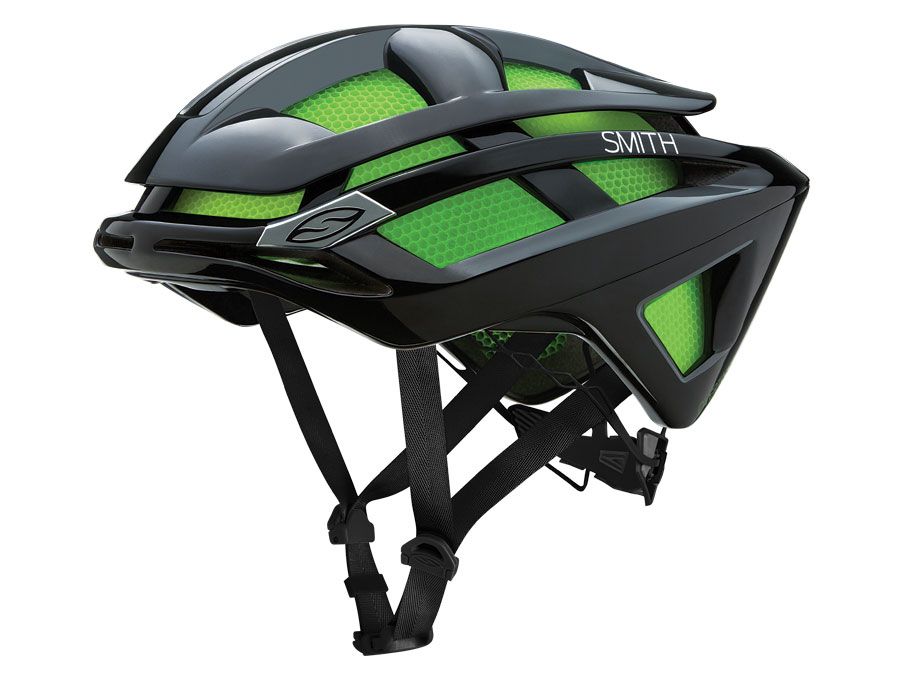 Black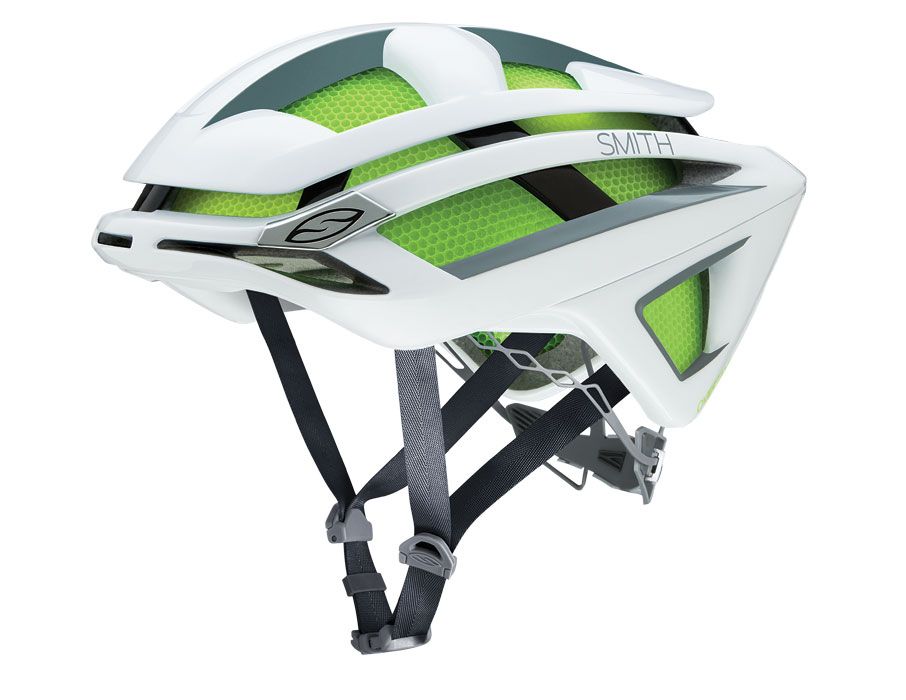 White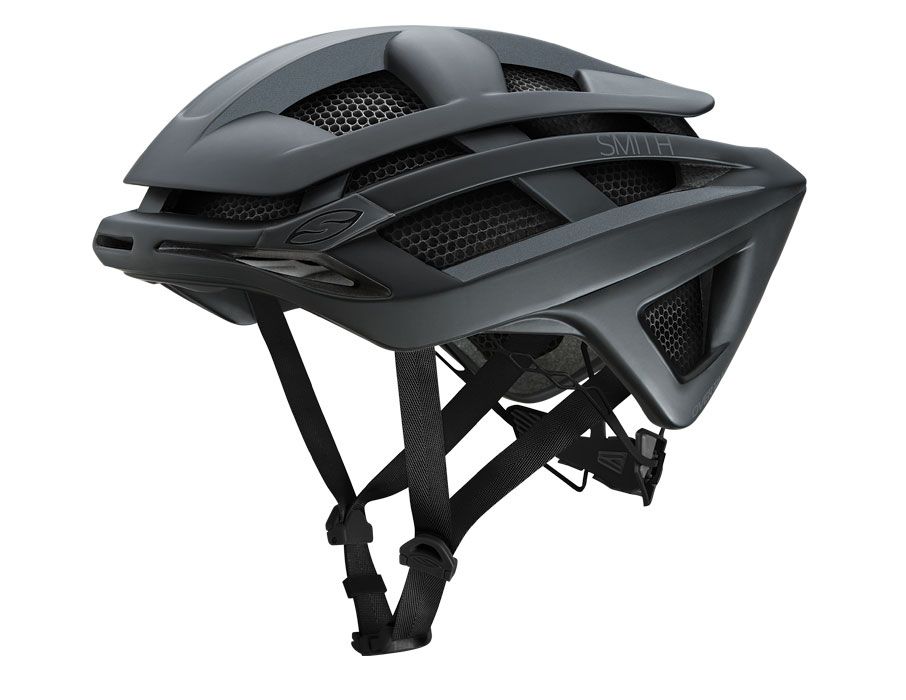 Matte Black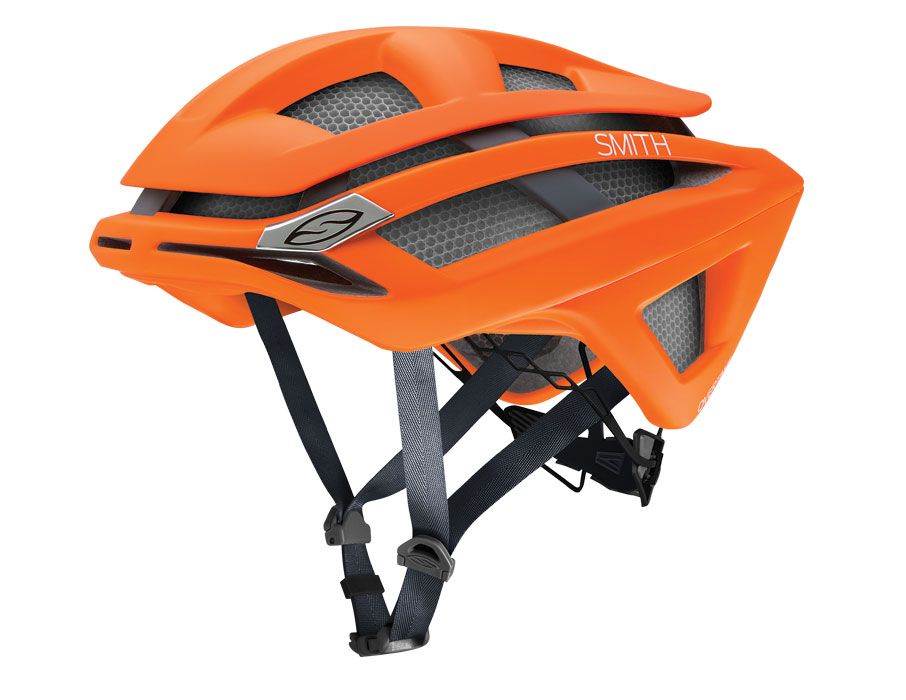 Matte Neon Orange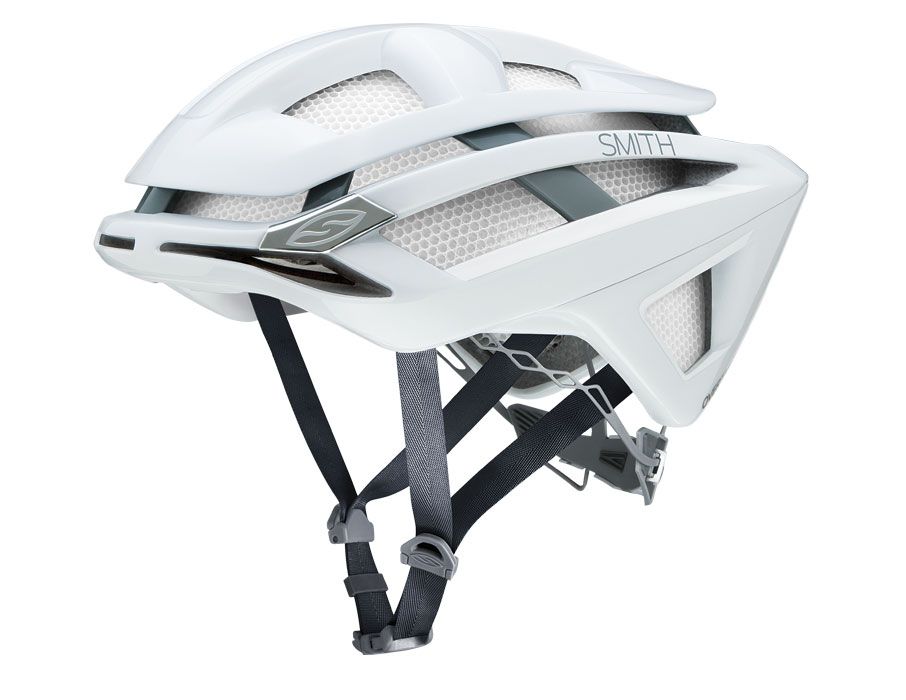 White Frost
MIPS in action

When you fall to the ground at an angle rotational forces are generated. A helmet integrating MIPS technology creates a sliding layer between the outer shell and the head. This allows the helmet's outer shell to slide relative to the head when hitting the ground, so the rotational force is decreased, reducing the potential to damage your brain.
Stress Levels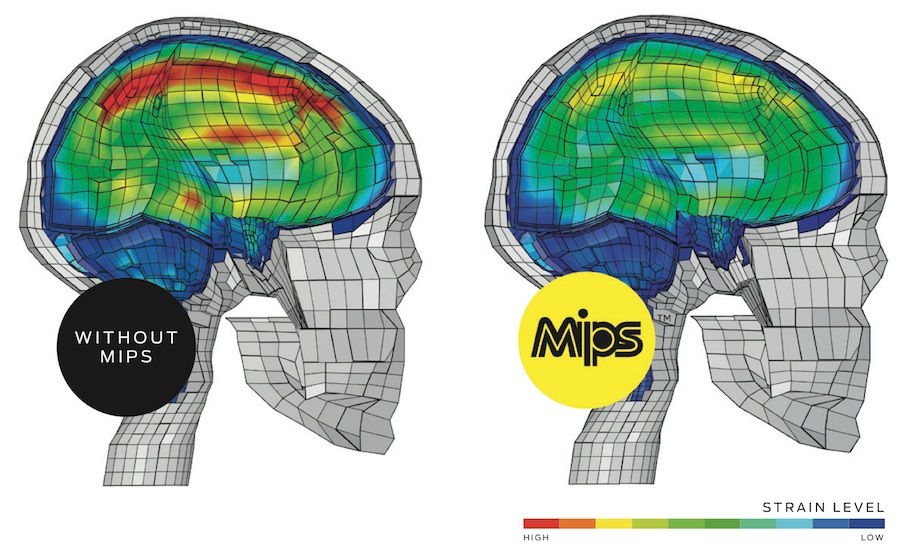 Simulated deformation of the brain from angled impact when the user is wearing a helmet with and without MIPS.
Aerodynamics

No one questions wind tunnel data and we are not about to start. However, the science does require expertise. Through a partnership with the FASTER wind tunnel and world-renowned aerodynamicist Len Brownlie, we tested the new Overtake against the current best-in-class helmets using the Wind Averaged Drag (WAD) methodology. This methodology was developed for the automobile industry decades ago but at Len's direction, has been modified for cycling-specific tests.

To make it as simple as possible for athletes and consumers to understand, the WAD method aggregates the drag measurements from several discrete yaw angles into a single "wind averaged" measure of drag. This provides final estimated time savings for a 40k time trial.


results
As the results show, the Overtake is nearly identical in aerodynamics to the Evade. With superior ventilation, protection and lower weight, the Overtake truly leads.
| | | |
| --- | --- | --- |
| Model | WAD at 25mph (40k/h) | Time saved over 40k TT at 25mph (40k/h) |
| Specialized Evade | 409 | 0.0 seconds |
| Smith Overtake | 412 | +1.06 seconds |
| Giro Air Attack | 419 | +4.15 seconds |
| Giro Aeon | 474 | +26.8 seconds |
Fluid Dynamics

Computational Fluid Dynamics, or CFD, can be used to measure the aerodynamics of different items. From NASA's Space Shuttle to modern day cycling helmets, CFD eliminates the guesswork and provides a very accurate aerodynamic forecast.
In development of the new Overtake, we used Coolit® CFD to compare multiple design variations against the current best-in-class. As shown in the illustrations above, the Overtake produced very competitive results. In analyzing CFD data, the red or 'brighter' colors show greater drag, while the purple or 'darker' areas show less drag.
When you combine the CFD development with wind tunnel validation then add in fit, ventilation, and protection, we will put the Overtake up against any helmet in the market.
Coolit® is a product of Daat Research Corp., www.daat.com
Ventilation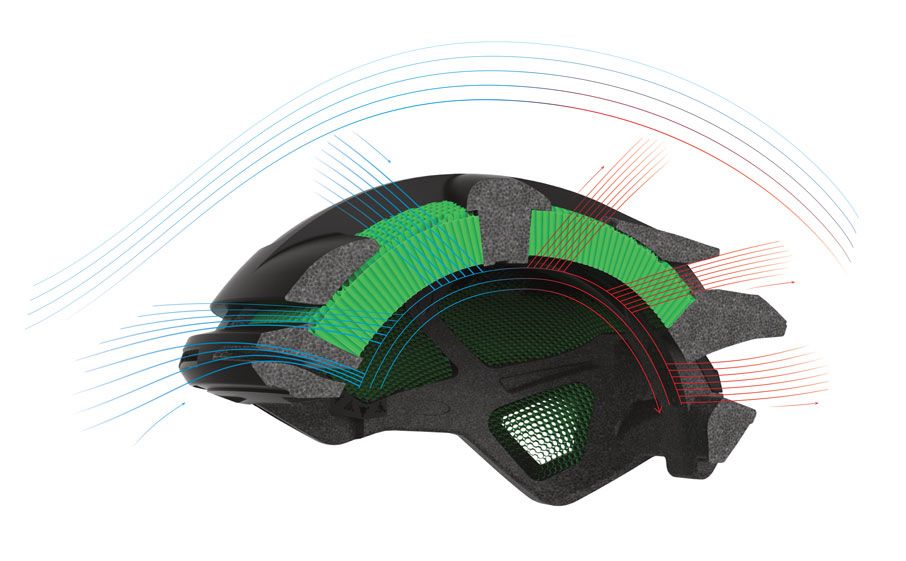 Temperature control has a major effect on a rider's performance. The Overtake's
Aerocore
construction allows us to create a helmet that ventilates in a new, and protective way. By integrating the patented Koroyd® tubular structure with traditional EPS, both active and passive ventilation systems allow the rider's head to exhaust more heat.
The 360-degree fit system and minimal padding effectively suspend the helmet off of the rider's head allowing each and every Koroyd® tube to constantly evacuate hot air. The result is that instead of building up pools of sweat that then come in contact with air as it passes under the vent giving the traditional 'cooling effect', heat is constantly escaping to keep the rider cooler, longer.
Weight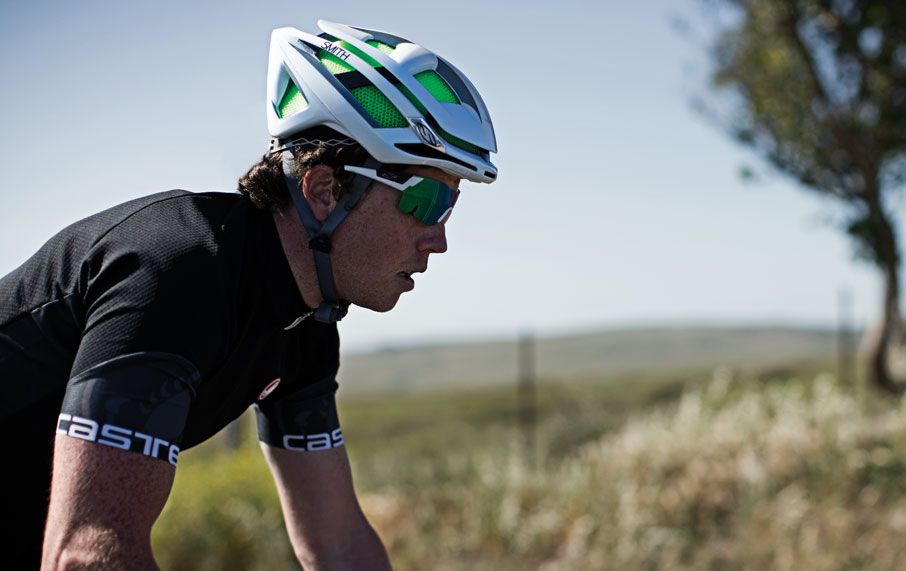 Weight is an absolute value but not the only one we care about. At Smith, we create helmets with the goal to be as light as possible, but also with the goal of providing best-in-class protection, fit, and aerodynamic performance. At 250g you may find a lighter helmet but you won't find one that aids your overall comfort, safety and performance better than ours.
Integration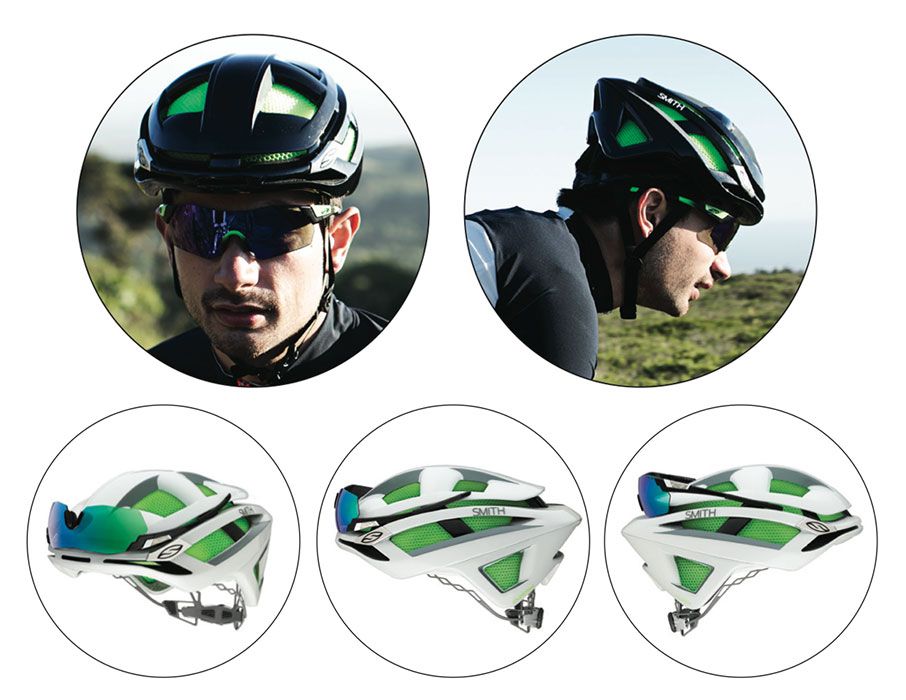 Eyewear and helmets need to integrate first and foremost when worn together. For long climbs or post-ride chats, we have integrated an eyewear dock that allows you to easily store your sunglasses back or front-facing. The choice is yours.
Field Of View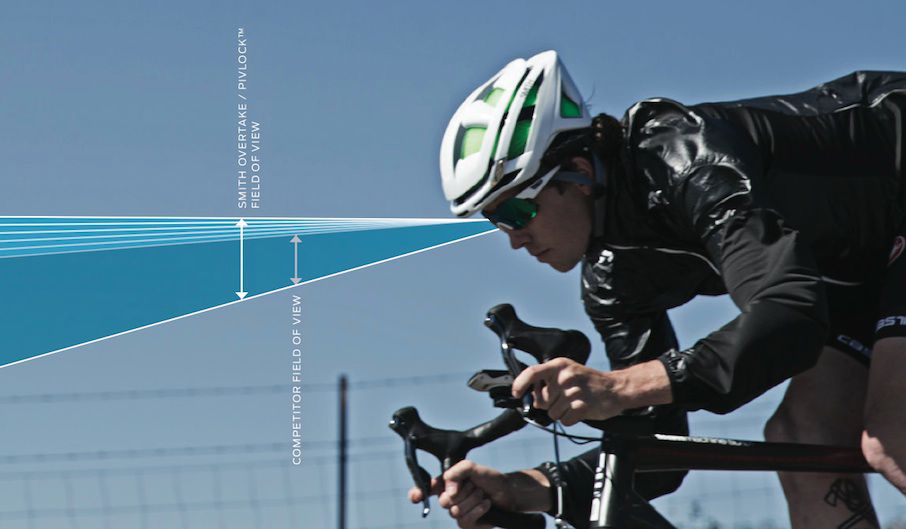 Optical performance is everything in eyewear. What's also hyper-important is field of view.

Created using our "only the essentials" design ethos, the new frameless PivlockTM sunglasses allow you to see farther ahead while staying relaxed. Whether in time trial or climbing mode, the completely unobstructed field of view keeps your neck and shoulder muscles in a more relaxed position than your competition. You only have so much energy, so why not put it toward your pedal stroke instead of your vision?
Eyewear