Squad Imprint 3D Goggle
Select Strap Color:

White
Select Lens Type:

ChromaPop Sun Green Mirror
Select Bonus Lens:

ChromaPop Storm Blue Sensor Mirror
An email will be sent to you once this product is back in stock.
Free Shipping
Limited Lifetime Warranty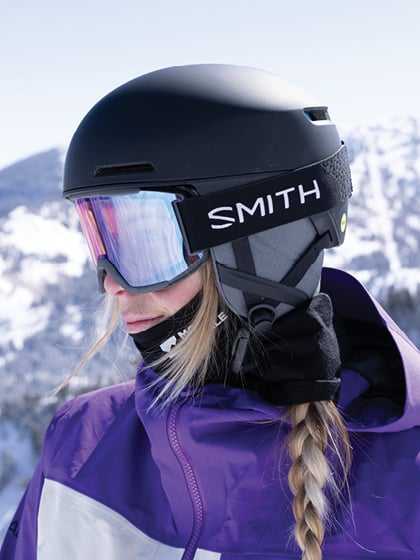 Cylindrical Lens
Cylindrical Carbonic-x lens for clarity and impact resistance with built-in Airflow technology for active ventilation.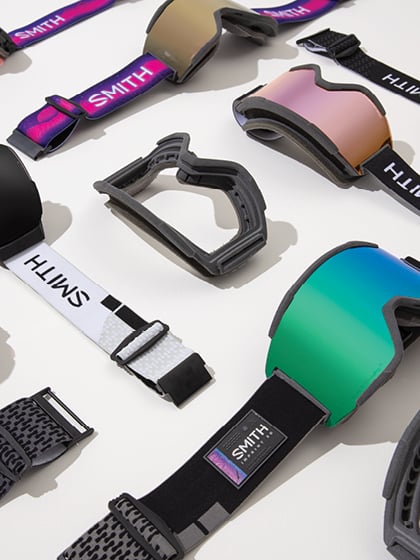 Custom Made for You
Using cutting-edge 3D printing technology, we create goggles with an ultra-custom fit. This goggle is truly made-to-order.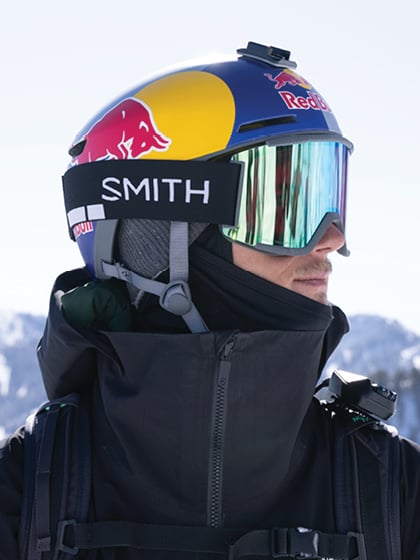 ChromaPop™
ChromaPop™ lens technology delivers enhanced color, clarity, and definition.
Description
One of most popular models joins the Imprint 3D family. The weather and light are always changing, and the Smith Squad goggles set you up for a crystal clear view through it all. Their semi-rimless design and oversize cylindrical lens yield a wide field of view backed up by sharp optics and our best anti-fog tech. ChromaPop™ lens options heighten contrast and color so every wind lip and terrain feature comes through loud and clear.
Fine tune your kit with additional or replacement goggle lenses for sunny conditions, variable conditions, and cloudy conditions. Expand your view here.
Want to try the app on your iOS device? Click Here.
Description
Product Details
Vision

Cylindrical Carbonic-x lens for clarity and impact resistance with built-in Airflow technology for active ventilation
Fog-X anti-fog inner lens for fog-free performance
ChromaPop™ lenses enhance contrast and natural color to make the details pop



Fit / Integration

Designed for ultimate integration with Smith helmets for maximum comfort, venting and fog-free performance
QuickFit strap adjustment system lets you find the right fit fast
Imprint 3D specific DriWix face foam wicks moisture for a fog-free fit and increases field of view
Ultra-wide, silicone-backed strap stays put
Medium fit
Additional Specs
Product Id:
SQUAD-IMPRINT-3D-GOGGLES
Frequently Asked Questions
The Smith Squad Imprint 3D goggle is a custom goggle built to the individualized features of a person's face. Utilizing Smith's custom app - available for download on compatible iPhone 10, 11, 12, 13, 14 &, 15 models - users scan their face to capture their unique details.
Through Smith's patent-pending Imprint 3D Technology, an individualized goggle frame is generated with a face flange that is tailored to the exact contours of the user's face. The customized frame is 3D printed, then hand assembled in Smith's USA-based production facility and delivered within 14 days.
---
In a traditional goggle, 12-15mm of face foam does most of the work establishing fit by adjusting between the frame and the contours of your face. With Squad Imprint 3D, the frame itself is tailored to your face. This in combination with a much thinner foam, acts to reduce pressure points, as well as light and air leaks, while allowing for lower strap tension.
Squad Imprint 3D has the same overall dimensions as its standard version – wearers with large faces may have an improved fit in the XL model.
---
We recommend wearing all our goggles with Smith helmets in order to achieve ultimate integration. Our helmets are designed to match the curvature of the goggle frame, eliminating "gaper gap" and allowing precise alignment between the helmet AirEvac and the goggle venting systems. To ensure optimal fit, the foam from the goggle should be flush with your face, directly against the skin.
---
Once we receive your face scan, printing, assembly and shipping turnaround time is approximately 14 business days.
---
Once the purchase is made, you have 21 days to redeem your code and complete a face scan. So, if you plan to gift a pair, be sure the scan is done soon after they receive it.
We will send you a reminder email if we do not receive your scan within 7 days and again in 14 days. Once the code expires your order will be cancelled and refunded. We are unable to resubmit your order so a new order must be placed. Unfortunately, gift cards are not available at this time on SmithOptics.com.
---